Welcome to In Touch, a newsletter designed to connect chapters
and celebrate our collective success!
Volume 1, October 2021
This season's edition profiles two women to watch, catches you up on member news,
highlights what's happening, and what you may have missed.

Hello to all,
Wherever you are, fall is surely upon us and as you have no doubt noted, IWF Canada is already off to a roaring start to our year, which kicks off at the AGM in June but truly picks up speed in September, it seems. I have had the good fortune of serving as VP to Françoise Lyon and was on the board under three previous presidents, so have had many inspirational role models for the tasks ahead of me. But I have to admit, the particular confluence of all the changes we want to make as an organization along with the special issues and considerations of the pandemic have made this a very exciting time to be heading IWFC. And happily, we have an extraordinarily committed team willing to make that happen, since it is definitely a team sport.

EDMONTON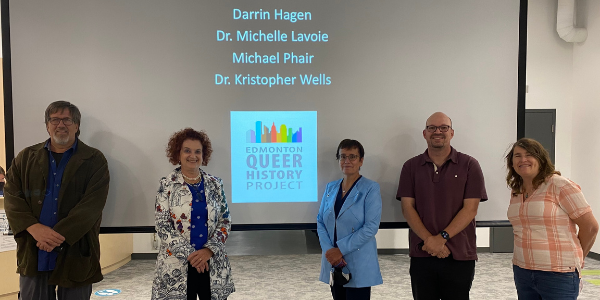 IWF Edmonton made queer history a chapter priority last month by gathering at the Roundhouse at MacEwan with Dr. Kris Wells and his team. The group is researching the Queer History of Edmonton with core goals of focusing on the people, places and moments that have helped to define and shape Edmonton's queer history over the past 50 years.
The delightful event bridged the gap between the community by sharing contemporary views of the city that are hidden in plain sight! The event at Roundhouse was hosted by chapter member Dr. Annette Trimbee, who is President of MacEwan.
ATLANTIC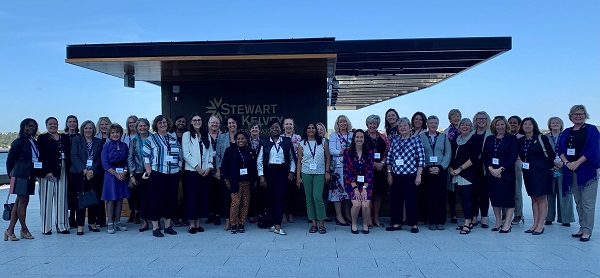 IWF Atlantic members enjoyed the opportunity to come together in-person to meet some of the newest female Nova Scotia political leaders. Following the provincial election in August, IWFA invited several MLAs and Ministers to join them for a rooftop reception hosted by chapter member Christine Pound at the law offices of Stewart McKelvey.
More than 30 members welcomed Labour, Skills and Immigration Minister Jill Balser, Community Services Minister Karla MacFarlane, MLA Lisa Lachance, MLA Suzy Hansen, and MLA Claudia Chender, for conversation and congratulations.
MONTREAL

When Louise Otis saw the chaos created by the United States withdrawal from Afghanistan and the immediate seizure of power by the Taliban, she immediately rallied international women's organizations, regardless of their mission, to speak with a single voice worldwide for the immediate protection of Afghan women. IWFC immediately participated in distributing a press release, alerting the world to the current status of women and girls in Afghanistan. We invite you to read it here. "It is important not to relax our vigilance and stay on the alert to help our sisters in Afghanistan," Louise Otis declared. IWF Montreal congratulates Louise for this praiseworthy initiative.
A MONTREAL WOMAN TO WATCH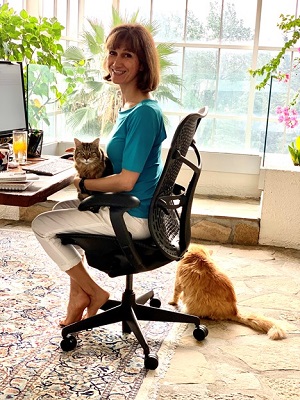 Getting to Know Kathy Fazel, Vice President & Investment Counsellor at RBC PH&N Investment Counsel
"IWF has given me strong women role models, mentors and friends, for which I am truly grateful."
When I arrived in Montreal at the age of nine, on a cold January afternoon, I didn't speak a word of French, and all I could say in English was "how do you do?" A couple of days later, my parents dropped me off at school one morning in my newly-acquired uniform. They returned that afternoon with a pair of boots and a winter coat, and that's how I started my new life in Canada!
As I was growing and learning about the diverse cultures around me, I was receiving news about my native country of Iran. The Islamic revolution which had caused my family to leave had installed a repressive regime, which rolled back the rights of women and girls. I became very aware of my privileges, rights and freedoms as a young girl in Canada, in contrast to my Iranian counterparts. Ever since then, this early experience became the driving force for my desire to help other girls and women.

EDMONTON:
Anila Lee-Yuen and Support for Afghanistan – Wednesday, November 10th , 5:00 pm.
A discussion with Edmonton Member, Anila Lee-Yuen, about her organization, The Centre for Newcomers, and spearheading a collaborative community approach to welcoming refugees from Afghanistan. Click to Register
ATLANTIC:
Embracing Canada's Opportunity to be a Leader in the Blue Economy – Thursday, November 18th, 4:30 pm - 5:30 pm AT (MS Teams). An online panel discussion with three Canadian leaders – Kendra MacDonald, Canada's Ocean Supercluster CEO; Anya Waite, Ocean Frontier Institute Scientific Director and CEO; and Melanie Nadeau, Chief Executive Officer, COVE. Contact us to register
OTTAWA:
Marie Lemay, President and CEO of the Royal Canadian Mint – Tuesday, October 19th.
Click to Register
Patricia Fuller, Climate Change Ambassador at EEEC – Tuesday, November 23rd.
Click to Register
NATIONAL:
Presidents' Series featuring Deborah Trudeau from Montréal – Beginning at 5:30pm ET October 25, we will feature Deborah Trudeau from Montréal in conversation with Pauline Couture. Click to Register
ApéroFranco: Mentoring or how to share knowledge for the advancement of women's leadership - Wednesday, November 3rd at 5:30 pm ET. Mentoring between women leaders is one of the keys to success in both your professional and personal life. Many of you are active as mentors within our network or elsewhere, come "solo" or with your mentees to share your experiences and discuss best practices in this field! Click to Register
IWF Canada Cocktail Reception – Thursday, November 4th at 5:30 pm ET. The Canada Cocktail Reception will be the perfect occasion to introduce you to this year's Luminary Award winners – don't miss this opportunity to honour two Canadian members who best exemplify the spirit and soul of IWF Canada through their active contributions to IWF International, IWF Canada and their IWFC local Chapter, and to recognize their overall contributions towards advancing the role of women locally, nationally and globally through their embodiment of the IWF Canada's vision, mission and values. Click to Register
Courageous Conversations: Using your Voice for Impact – Wednesday, November 10th at 5:30 pm ET. We are excited to announce our second Courageous Conversations event on November 10th, 2021. The theme of this virtual event is "Using your Voice for Impact" where IWF members will share their experience of how and when they use their voice to impact change through challenges and victories. Click to Register
IWF Canada-Finland Summit: Part One - Tuesday, November 16th at 12:30 pm ET. IWFC has recently connected with IWF Finland to plan an exciting knowledge exchange! On November 16th, we will host IWF Finland for a 90-minutes virtual conversation where we answer their questions about Canada, and in January, we get to ask them all about Finland! Our Finnish colleagues have expressed great curiosity about Canada's tradition of multiculturalism and our national consensus in support of immigration and welcoming refugees. More details to come. Click to Register
A NEWFOUNDLAND AND LABRADOR WOMAN TO WATCH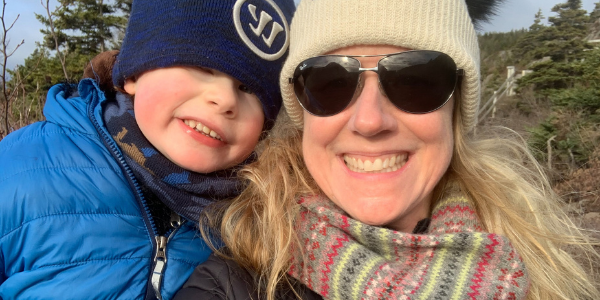 Getting to Know Lynn Healey, Chief Operations & Financial Officer, Sequence Bio
"I think there is great power in women supporting one another."
Newfoundland and Labrador member, Lynn Healey is a woman who knows the sequence to success! The biotechnology company she leads researches Newfoundland's genetic founder population to discover new, globally relevant links between human biology, health, and disease to accelerate the development of safer medicines and disease treatments.
"Our mission is to discover the true signals of disease to power life-changing medicines," says Lynn.
Having grown up in St. John's, Lynn attended Memorial University before moving to Toronto to become a partner at EY. She worked on projects in Canada, the US, Korea, Germany, Barbados and Switzerland. She's now pleased to be making a difference in her home province where she enjoys spending time outdoors with her husband, two sons and fur-baby (an eight-year-old West-Highland Terrier named Finley).
TORONTO:
Karen Adams is appointed to the role of President of CloudMD
Artist Patricia Gagic receives the Amber Award for her work "Escape to Reality"
Retail Executive Trinh Tham is recognized as one of the Top Women in Retail Technology in 2021
Nonprofit CEO Surranna Sandy receives the 2020 100 Accomplished Canadian Black Women Award
Lawyer and AI Ethicist Josephine Yam acquires her Master of Arts in Philosophy (AI Ethics) degree from the University of Guelph
Dorothy Quann appointed as the inaugural dean of CGU (General Counsel University). GCU was recently founded by Women General Counsel Canada as an innovative learning environment for women legal leaders across Canada.
EDMONTON:
Myrna Bittner's RUNWITHIT Synthetics is recognized as "Most Edmonton Startup"
Kara Flynn retires from Syncrude
ATLANTIC:
Karen Oldfield takes over as Interim President & CEO of Nova Scotia Health
IWFA Chair, Ava Czapalay now Deputy Minister of the newly created Department of Labour, Skills and Immigration
April Howe new Deputy Minister of Fisheries and Aquaculture
Candace Thomas joins the Dartmouth General Hospital Foundation Board
Ann MacKenzie is appointed to a four-year-term on the Board of Canada Post
We want to recognize the achievements and milestones of our IWF sisters. Please share your Member News with us, so we can inspire others! Connect at - Starr.cunnigham@nshealth.ca

Do you know of a partnership just waiting to happen? Our newly minted Partnership Committee is seeking new opportunities. Chair, Surranna Sandy, would be delighted to hear from you! Connect at - ssandy@skillsforchange.org.


"We must open the doors and we must see to it they remain open,
so that others can pass through."
Rosemary Brown,
politician, activist and Canada's first Black female of a provincial legislature

---

Bienvenue à En Contact, un bulletin d'information conçu pour relier les sections et à célébrer notre succès collectif !
L'édition de cette saison présente deux femmes à suivre et vous informe des nouvelles de nos membres, met en évidence ce qui se passe, et ce que vous avez peut-être manqué.

Bonjour à toutes,
Où que vous soyez, l'automne est sûrement à la porte et comme vous l'avez sans doute remarqué, l'IWF Canada a déjà commencé son année en fanfare, laquelle débute à l'AGA en juin mais s'accélère vraiment en septembre, semble-t-il. J'ai eu la chance d'être vice-présidente sous Françoise Lyon et j'ai siégé au CA sous trois présidentes précédentes. J'ai donc eu de nombreux modèles inspirants pour les tâches qui m'attendaient. Mais je dois admettre que la confluence particulière de tous les changements que nous voulons apporter en tant qu'organisation ainsi que les enjeux et considérations particuliers de la pandémie ont fait de cette période un moment très excitant pour diriger l'IWFC. Et heureusement que nous avons une équipe extraordinairement engagée prête à y arriver car c'est définitivement un sport d'équipe.
MOMENTS FORTS DES SECTIONS

EDMONTON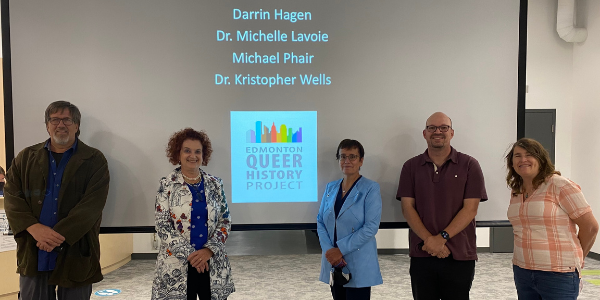 IWF Edmonton a fait de l'histoire queer une priorité de sa section, le mois dernier, en se réunissant au Roundhouse de l'Université MacEwan en compagnie du Dr Kris Wells et de son équipe. Le groupe effectue des recherches sur l'histoire queer d'Edmonton, avec pour objectif principal de se concentrer sur les personnes, les lieux et les moments qui ont contribué à la définir et à la façonner au cours des 50 dernières années.
Ce charmant événement a permis de combler le fossé entre les communautés en partageant des perspectives contemporaines de la ville qui sont méconnues, mais pourtant bien visibles. L'événement au Roundhouse a été organisé par la Dre Annette Trimbee, membre de la section, qui est également présidente et vice-chancelière de l'Université MacEwan.
ATLANTIQUE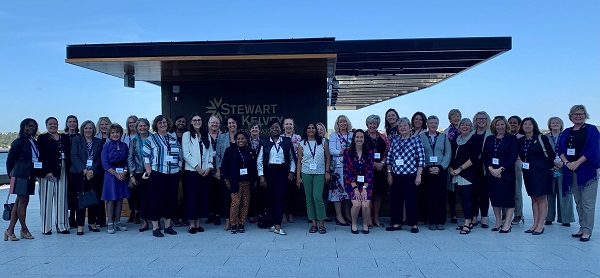 Les membres de la section de l'Atlantique l'IWFC ont eu l'occasion de se réunir en personne pour rencontrer certaines des dirigeantes politiques récemments élues de la Nouvelle-Écosse. Après les élections provinciales du mois d'août, l'IWFA a invité plusieurs députées et ministres à se joindre à ses membres pour une réception organisée par Christine Pound, membre de la section, sur le toit du cabinet d'avocats Stewart McKelvey.
Plus de 30 membres ont accueilli la ministre du Travail, des Compétences et de l'Immigration, Mme Jill Balser, la ministre des Services communautaires, Mme Karla MacFarlane, la députée Lisa Lachance, la députée Suzy Hansen et la députée Claudia Chender, pour une conversation et une célébration de leur victoire.
MONTRÉAL

Lorsque Louise Otis a vu le chaos créé par le retrait des États-Unis en Afghanistan et la prise de pouvoir des talibans sur-le-champ, elle a aussitôt rallié les organisations internationales de femmes sans égard à leur mission pour parler d'une seule voix au monde entier pour la protection des femmes afghanes sans délai. IWF a immédiatement pris parti en diffusant un communiqué alertant le monde sur la situation actuelle des femmes et des filles en Afghanistan. Nous vous invitons à en prendre connaissance ici.
« Il est important de ne pas relâcher la vigilance et de rester en alerte pour aider nos sœurs en Afghanistan » a déclaré Louise Otis. Toutes nos félicitations Louise pour cette louable initiative.
UNE MONTRÉALAISE À SURVEILLER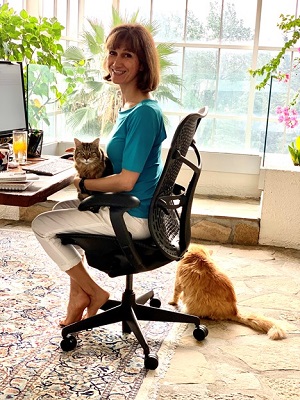 Apprendre à connaître Kathy Fazel, vice-présidente et conseillère en placements chez RBC PH&N Investment Counsel.
"L'IWF m'a donné des modèles de femmes fortes, des mentors et des amies, ce dont je suis vraiment reconnaissante."
Quand je suis arrivée à Montréal à l'âge de neuf ans, par un après-midi de janvier très froid, je ne parlais pas un seul mot de français et mon anglais se résumait à 'how do you do ?' Deux jours plus tard, mes parents me déposaient à l'école dans mon nouvel uniforme. Ils sont revenus l'après-midi, m'apportant une paire de bottes et un manteau d'hiver. C'était le début de ma vie au Canada.
À mesure que je grandissais et que je m'intégrais à ma nouvelle société, je recevais des nouvelles de l'Iran, mon pays d'origine. La révolution islamique qui avait provoqué le départ de mes parents avait installé un régime répressif qui réduisait les droits des femmes et des filles. Ainsi, je suis devenue très consciente des privilèges, droits et libertés dont je profitais comme jeune fille au Canada, contrairement aux jeunes Iraniennes. Cette expérience est à l'origine de mon désir d'aider toutes les filles et les femmes.

EDMONTON :
Anila Lee-Yuen / Soutien pour l'Afghanistan – Le mercredi 10 novembre à 17 h. Une discussion avec Anila Lee-Yuen, membre de la section d'Edmonton, à propos de son organisation, le Centre for Newcomers, et de la mise en place d'une approche communautaire collaborative pour accueillir les réfugiés d'Afghanistan. Inscription
ATLANTIQUE :
Embracing Canada's Opportunity to be a Leader in the Blue Economy (Saisir l'occasion pour le Canada d'être un chef de file de l'économie bleue) – Le jeudi 18 novembre, 16 h 30 à 17 h 30 HA (MS Teams). Une discussion en ligne avec trois leaders canadiennes : Mme Kendra MacDonald, chef de la direction de Canada's Ocean Supercluster; Mme Anya Waite, directrice scientifique et chef de la direction de l'Ocean Frontier Institute; et Mme Mélanie Nadeau, chef de la direction de COVE. Contactez-nous pour vous inscrire
OTTAWA :
Marie Lemay, Présidente et chef de la direction de la Monnaie royale canadienne –
Le mardi 19 octobre. Inscription
Patricia Fuller, ambassadrice des changements climatiques de l'ECCC –
Le mardi 23 novembre. Inscription
NATIONALE :
La Série des présidentes mettant en vedette Deborah Trudeau de Montréal – Dès 17 h 30 HE, le 25 octobre, nous présenterons une conversation entre Deborah Trudeau, de la section de Montréal, et Pauline Couture. Inscription
ApéroFranco : Le mentorat ou comment partager les connaissances pour l'avancement du leadership féminin – Le mercredi 3 novembre à 17 h 30 HE. Le mentorat entre femmes leaders est l'une des clés de la réussite dans votre vie professionnelle et personnelle. Beaucoup d'entre vous jouent un rôle actif en tant que mentores au sein de notre réseau ou ailleurs. Venez « en solo » ou avec vos mentorées pour partager vos expériences et discuter des meilleures pratiques dans ce domaine. Inscription
Cocktail d'IWF Canada – Le jeudi 4 novembre à 17 h 30 HE. Le cocktail d'IWF Canada sera le moment idéal de vous présenter les lauréates des prix Luminaires de cette année. Ne manquez pas cette occasion d'honorer deux membres canadiennes qui incarnent à merveille l'esprit et l'âme du Forum par leurs contributions actives à IWF International, à IWF Canada ainsi qu'à leur section locale, et de reconnaître l'ensemble de leurs contributions à l'avancement du rôle des femmes tant aux niveaux local et national que mondial par leur incarnation de la vision, de la mission et des valeurs d'IWF Canada. Inscription
Conversations courageuses : Utiliser sa voix pour changer les choses – Le mercredi 10 novembre à 17 h 30 HE. Nous sommes ravies d'annoncer notre deuxième événement « Conversations courageuses » qui se tiendra le 10 novembre prochain. Le thème de cet événement virtuel est « Using your Voice for Impact » (Utiliser sa voix pour changer les choses). Dans le cadre de cet événement, les membres d'IWF dévoileront quand et comment elles utilisent leur voix pour changer les choses, les défis auxquels elles ont fait face et leurs victoires. Inscription
Sommet IWF Canada-Finlande - 16 novembre. L'IWFC s'est récemment associé à l'IWF Finlande pour planifier un échange de connaissances passionnant ! Le 16 novembre, nous accueillerons l'IWF Finlande pour une conversation virtuelle de 90 minutes au cours de laquelle nous répondrons à leurs questions sur le Canada, et en janvier, nous leur demanderons tout sur la Finlande ! Nos collègues finlandaises ont exprimé une grande curiosité à l'égard de la tradition de multiculturalisme du Canada et de notre consensus national en faveur de l'immigration et de l'accueil des réfugiés. Nous annoncerons bientôt plus de détails sur ce fabuleux événement. Inscription
UNE FEMME DE TERRE-NEUVE-ET-LABRADOR À SURVEILLER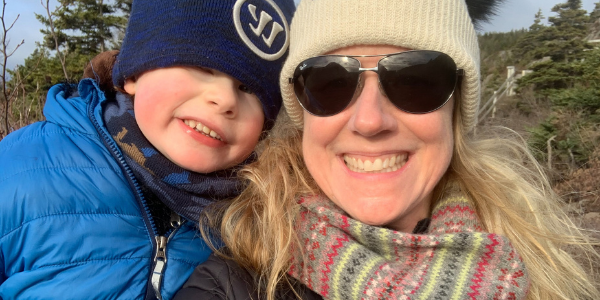 Apprendre à connaître Lynn Healey, directrice des opérations et des finances,
Sequence Bio.
« Je pense qu'il y a un grand pouvoir dans le fait que les femmes se
soutiennent mutuellement. »

Lynn Healey, membre de la section de Terre-Neuve-et-Labrador, est une femme qui connaît bien le succès. L'entreprise de biotechnologie qu'elle dirige effectue des recherches sur la population fondatrice génétique de Terre-Neuve pour découvrir de nouveaux liens pertinents à l'échelle mondiale entre la biologie humaine, la santé et la maladie, dans l'objectif d'accélérer le développement de médicaments et de traitements plus sûrs.
« Notre mission consiste à découvrir les véritables signaux de la maladie afin de mettre au point des médicaments susceptibles de changer la vie des patients », explique Lynn.
Ayant grandi à St. John's, Lynn a fréquenté l'Université Memorial de Terre-Neuve avant de déménager à Toronto pour devenir associée chez EY. Elle a travaillé sur des projets au Canada, aux États-Unis, en Corée, en Allemagne, à la Barbade et en Suisse. Elle est maintenant heureuse d'apporter sa contribution dans sa province natale, où elle aime passer du temps en nature avec son mari, ses deux fils et son toutou adoré, un West highland white terrier de huit ans nommé Finley.

TORONTO :
Karen Adams a été nommée au poste de présidente de CloudMD.
L'artiste Patricia Gagic a reçu le prix Amber pour son œuvre Escape to Reality.
Trinh Tham, cadre dans le secteur du détail, a été reconnue comme l'une des femmes les plus importantes dans le domaine de la technologie du commerce de détail en 2021.
Chef de la direction d'un organisme caritatif, Surranna Sandy a reçu le prix 2020 des 100 femmes noires les plus accomplies du Canada.
Avocate et éthicienne de l'IA, Josephine Yam a obtenu sa maîtrise ès arts en philosophie (éthique de l'intelligence artificielle) de l'Université de Guelph.
EDMONTON :
La jeune pousse RUNWITHIT Synthetics de Myrna Bittner a reçu la distinction « Most Edmonton Startup »
Kara Flynn a pris sa retraite de Syncrude.
ATLANTIQUE :
Karen Oldfield a pris la relève en tant que présidente-directrice générale par intérim de Nova Scotia Health.
La présidente de la section de l'Atlantique, Ava Czapalay est devenue la sous-ministre du nouveau ministère du Travail, des Compétences et de l'Immigration.
April Howe est la nouvelle sous-ministre de la Pêche et de l'Aquaculture.
Candace Thomas siège désormais au conseil de la Fondation de l'hôpital général de Dartmouth.
Ann MacKenzie a été nommée pour un mandat de quatre ans au conseil d'administration de Postes Canada.
* Nous voulons souligner les réalisations et les jalons importants de nos sœurs d'IWF. Veuillez partager vos nouvelles et accomplissements avec nous, afin que nous puissions inspirer les autres! Écrivez-nous à Starr.cunnigham@nshealth.ca.

Vous êtes au courant d'un partenariat qui ne demande qu'à se concrétiser? Notre tout nouveau comité de partenariats est à la recherche de nouvelles occasions. Sa présidente, Surranna Sandy, sera ravie de vous entendre! Communiquez avec elle à ssandy@skillsforchange.org.

« Nous devons ouvrir les portes et nous devons veiller à ce qu'elles restent ouvertes, afin que d'autres puissent suivre nos pas. »
Rosemary Brown,
politicienne, activiste et première femme noire d'une assemblée législative
provinciale au Canada