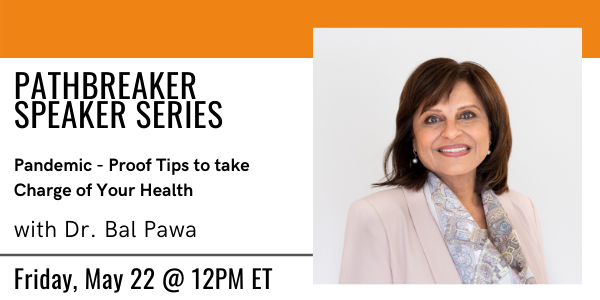 Dr. Pawa is an integrative physician, pharmacist, author of The Mind-Body Cure book, Co-founder of Westcoast Women's' Clinic, and a TEDx Speaker. The combination of 30-years of clinical experience, tireless passion, and unique academic credentials makes her a sought-after speaker on the effects of stress hormones on the body. The valuable Self-help tips in her REFRAME toolkit are practical, grounded in science, and more importantly, actionable advice that you can implement during periods of fear and uncertainty and well beyond.
Dr. Pawa obtained certification in Mind-Body Medicine at Harvard Medical School and is also a board Certified Menopause Clinician, she expanded her education with Functional/Integrative medicine in Gut/Brain, Neuroplasticity, and Immune health. She is a tireless, passionate health advocate who empowers people to take charge of their health. As a media health expert for radio, television, community, and corporations, Dr. Pawa also continues to educate and inspire medical students at the Faculty of Medicine, UBC. Her work in the community was recognized by a nomination for the YWCA Women of Distinction Award.
Dr. Pawa also works with organizations to transform health in the workplace to optimize employee performance, engagement, and productivity.
We are thrilled with the success of the Pathbreaker Series and have a full roster of stellar IWFC members and Fellows to profile over the coming weeks. I invite all of your feedback and suggestions regarding this Series and as well any other ideas you may have for making our Forum even stronger during this difficult time.

---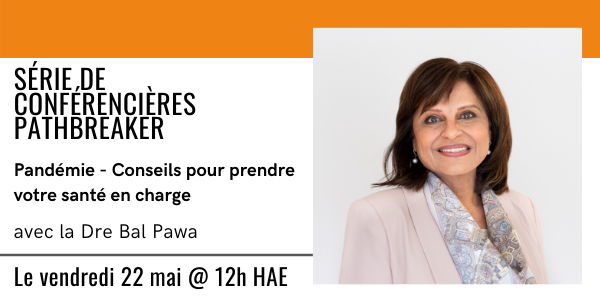 La Dre Pawa est médecin intégratrice, pharmacienne, auteure du livre The Mind-Body Cure, co-fondatrice de la Westcoast Women's' Clinic, et conférencière TEDx. La combinaison de 30 ans d'expérience clinique, d'une passion inlassable et de qualifications universitaires uniques fait d'elle une conférencière recherchée sur les effets des hormones du stress sur le corps. Les précieux conseils d'auto-assistance de sa boîte à outils REFRAME sont pratiques, fondés sur la science et, plus important encore, faciles à mettre en œuvre en période de crainte et d'incertitude, et bien au-delà.
La Dre Pawa a obtenu une certification en médecine corps-esprit à la Harvard Medical School et est également une clinicienne certifiée en ménopause. Elle a étendu sa formation à la médecine fonctionnelle/intégrative dans les domaines de l'intestin/cerveau, de la neuroplasticité et de la santé immunitaire. Elle est une avocate infatigable et passionnée de la santé qui donne aux gens le pouvoir de prendre en charge leur santé. En tant qu'experte en santé pour la radio, la télévision, la communauté et les entreprises, la Dre Pawa continue également à éduquer et à inspirer les étudiants en médecine de la faculté de médecine de l'Université de la Colombie-Britannique. Son travail dans la communauté a été reconnu par une nomination pour le prix "Women of Distinction Award" du YWCA.
La Dre Pawa travaille également avec des organisations pour transformer la santé en milieu de travail afin d'optimiser les performances, l'engagement et la productivité des employés.
Nous sommes ravies du succès la série Pathbreaker et nous avons une liste complète de membres et de boursières de l'IWFC à présenter au cours des prochaines semaines. Je vous invite à nous faire part de vos commentaires et suggestions concernant cette série ainsi que de toute autre idée susceptible de renforcer notre forum pendant cette période difficile.