Un message in français suit
I am thrilled to announce the launch of the virtual IWFC Pathbreaker Speakers Series and its first presentation "COVID-19: An Invitation to Empathic Action" with IWF Canadian Fellow Dr. Anita Nowak on Thursday April 30th at 4:30pm ET.
In imagining this series we wanted to ensure that we were delivering on two goals providing Forum members with accessible, engaging and timely Canadian content and highlighting our own expert members and Fellows.
These are challenging and uncertain times however our Canadian Forum is comprised of innovators, pioneers and provocateurs. We are an ideal community for meeting today's and tomorrow's challenges. Thus, we christened the series "Pathbreaker". It is what IWF members do every day for themselves, their organizations, communities and each other.
Anita's presentation, based on her IWF Fellow Legacy project, is timely. She invites you to consider how empathy can be leveraged in a post-pandemic world and how you (and your organization and community) can embrace empathic action, today.
Anita is an empathy expert, award-winning educator, author and social impact coach. She currently serves the Desautels Faculty of Management at McGill University as an Academic Associate and teaches Leadership, Managing for Impact and Social Entrepreneurship & Innovation, for which she has twice been awarded Professor of the Year. As a certified personal and professional coach, Anita helps HNWIs and their families achieve meaningful philanthropic goals.
COVID-19 has turned our lives and world upside down. It has unleashed widespread introspection about our personal and global priorities, begging the question: Post-pandemic, will traditionally dominant forces succeed in bringing us back to business as usual?

OR will we harness our moral imagination and political will to drive greater sustainability and social justice? Will this crisis deepen division and exacerbate competition or will it usher in a new era of cooperation and interdependence?

Ground-breaking neuroscience has confirmed what the wisdom traditions have known for millennia. Humans are born to empathize and extending an empathic embrace is good for us. In a time marked by climate change, wealth inequality, escalating suicide rates and the opioid epidemic, empathic action can be leveraged in the pursuit of both individual and collective wellbeing.
Attached are links to two of Anita's TEDx talks and website.
The Power of Empathy www.anitanowak.com
Empathy will Save Humanity https://www.youtube.com/watch?v=BoEC7qMvTFE
How to participate https://www.youtube.com/watch?v=_FUlFhauniU&t=4s
How to Participate - details regarding how to participate in this session will be confirmed in the next day or two.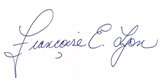 Françoise E. Lyon, President
*************
Chères membres,
Je suis ravie d'annoncer le lancement de la série de conférences virtuelles "Pathbreaker Speakers" de l'IWFC et sa première présentation "COVID-19 : une invitation à l'action empathique" avec la Dre Anita Nowak, membre canadienne de l'IWF, ce jeudi 30 avril à 16h30 HAE.

En imaginant cette série, nous voulions nous assurer que nous atteignions deux objectifs: fournir aux membres du Forum un contenu canadien accessible, engageant et opportun, et mettre en valeur nos propres expertes et Fellows.

Nous vivons une période difficile et incertaine, mais notre Forum canadien est composé d'innovatrices, de pionnières et de provocatrices. Nous sommes une communauté idéale pour relever les défis d'aujourd'hui et de demain. C'est pourquoi nous avons baptisé la série "Pathbreaker". C'est ce que les membres de l'IWF font chaque jour pour elles-mêmes, leurs organisations, leurs communautés et les unes pour les autres.
La présentation d'Anita, basée sur son projet "IWF Fellow Legacy", arrive à point nommé. Elle vous invite à réfléchir à la manière dont l'empathie peut être mise à profit dans un monde post-pandémique et à la manière dont vous (ainsi que votre organisation et votre communauté) pouvez adopter une action empathique, aujourd'hui.
Anita est une experte de l'empathie, une éducatrice primée, une auteure et une coach en impact social. Elle travaille actuellement à la Faculté de gestion Desautels de l'Université McGill en tant qu'associée universitaire et enseigne le leadership, la gestion de l'impact et l'entrepreneuriat social et l'innovation, pour lesquels elle a été nommée à deux reprises professeur de l'année. En tant que coach personnelle et professionnelle certifiée, Anita aide les individus à valeur nette élevée et leurs familles à atteindre des objectifs philanthropiques significatifs.
COVID-19 a bouleversé nos vies et notre monde. Il a déclenché une introspection généralisée sur nos priorités personnelles et mondiales, ce qui soulève la question : Après la pandémie, les forces traditionnellement dominantes réussiront-elles à nous ramener à la normale?

OU allons-nous exploiter notre imagination morale et notre volonté politique pour favoriser une plus grande durabilité et une plus grande justice sociale ? Cette crise va-t-elle approfondir la division et exacerber la concurrence ou bien marquera-t-elle le début d'une nouvelle ère de coopération et d'interdépendance?

Les neurosciences révolutionnaires ont confirmé ce que les traditions de sagesse connaissent depuis des millénaires. Les humains sont nés pour sympathiser et il est bon pour nous d'étendre une étreinte empathique. À une époque marquée par le changement climatique, l'inégalité des richesses, l'escalade des taux de suicide et l'épidémie d'opiacés, l'action empathique peut être mise à profit dans la poursuite du bien-être individuel et collectif.
Vous trouverez ci-dessous des liens vers deux des conférences TEDx d'Anita et vers son site Web: www.anitanowak.com
Le pouvoir de l'empathie - https://www.youtube.com/watch?v=BoEC7qMvTFE
L'empathie sauvera l'humanité - https://www.youtube.com/watch?v=_FUlFhauniU&t=4s
Comment participer - les détails concernant la façon de participer à cette session seront confirmés dans les prochains jours.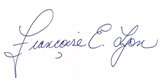 Françoise E. Lyon, présidente