Calgary Chapter
Food, flair, and great conversation
More than 35 guests and members of IWF Calgary enjoyed a special evening in May organized by Glenbow Board Member and IWF Member, Terry Allen. The exhibition featured exquisite gowns and daytime apparel, perfumes, and accessories - all from the first ten years of the House of Dior (1947–1957), when Christian Dior himself designed the pieces. It explores the construction of Dior's designs to understand how the House reinvented modern dressmaking by reviving forgotten historical skills and fusing them with unprecedented designs, cuts, and materials.

Fireside chat with new U.S. Consul General
After learning that Lucia Piazza, the new U.S. Consul General, was a recent graduate of the IWF Leadership Fellowship program, Michèle Stanners invited her to meet Calgary IWF members. In April, Lucia was interviewed in a fireside chat by Dr. Brenda Kenny. She shared a vivid picture of her career in the State Department with a focus on women's leadership. In simple but profound initiatives, she's found ways to make a lasting difference while respecting cultural norms and restrictions in specific countries.
---
Waterloo Chapter





Dine-Arounds are a popular event in Waterloo every spring and fall. An April event included (left to right): Amy Schlueter, Jane Adams, Machelle Denison, Rosa Lupo, Sarah Shortreed, Stacey Rous, Linda Fabi, Ginny Dybenko (host), Anne Miner, and Julie Barker-Merz. In addition to sharing about each other, conversation focused on strategies to enrich and expand membership, as well as how to get more out of chapter activities. The fall Dine-Around is scheduled for October 24th, 2019.
---
Atlantic Chapter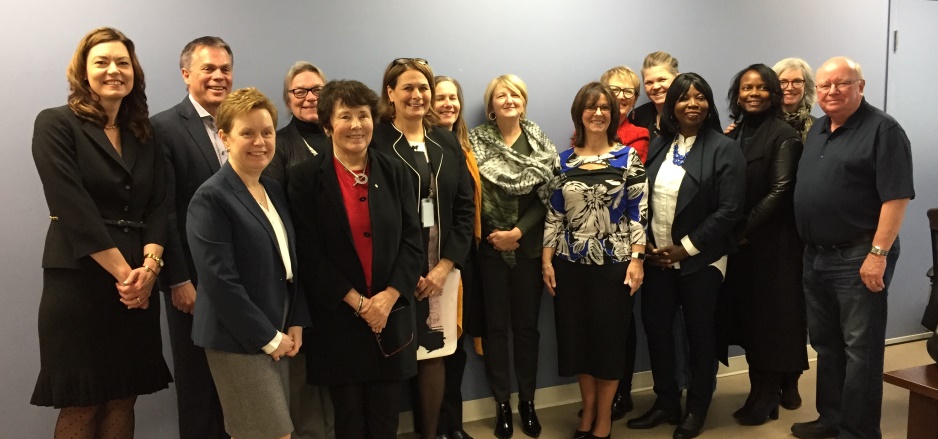 February 2019 marked the five-year mid-point of the work Nova Scotians are undertaking to address their demographics and economic future. IWF Atlantic members attended a lively breakfast update on shared progress toward the 19 Goals identified by the One Nova Scotia Commission. The presentation and Q&A was co-led by Don Bureaux, Chair of One Nova Scotia and President of NSCC, Laura Lee Langley, Deputy Minister of the Office of the Premier and Head of the Public Service, and Duff Montgomerie, Deputy Minister, Department of Labour & Advanced Education. Pictured left to right: Christine Hanson, Don Bureaux, Anna Stuart, Barbara Pike, Dale Godsoe, Ava Czapalay, Ulrike Bahr-Gedalia, Marion MacKenzie, Laura Lee Langley, Maureen Reid, Kendra MacDonald, Ann Divine, Candace Thomas, Pamela Scott-Crace, Duff Montgomerie.
---
Toronto Chapter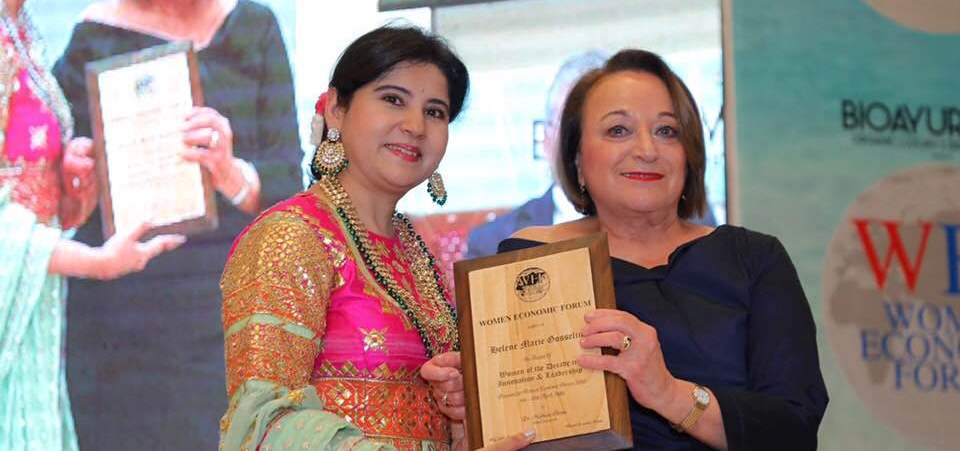 Last year, several IWF Toronto members attended the Women's Economic Forum (WEF) conference when it was in Toronto. This past April, former Toronto member Hèlène Marie Gosselin received an honorary doctorate from RAI University at the WEF conference held in Delhi. RAI University has campuses in Bangalore, Ahmedabad, and Gujarat. The honour was conferred "in recognition of outstanding contribution to women's empowerment and inspirational leadership." She also received the All Ladies League of India "Award of the Decade in Innovation & Leadership" at the closing ceremony.